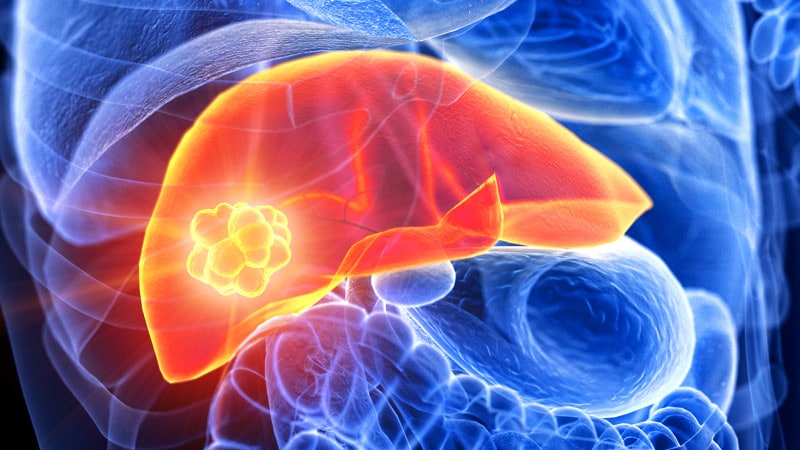 Adding TACE to lenvatinib improves survival in liver cancer
SAN FRANCISCO – Adding Transarterial Chemoembolization (TACE) to Lenvatinib (Lenvima) Treatment Significantly Improved Survival Compared to Levantinib Alone in Patients With Advanced Hepatocellular Carcinoma (HCC) in the LAUNCH Phase 3 Trial .
The combination of TACE and levantinib "represents a potential new first-line treatment option for patients with advanced HCC," said study author Ming Kuang, MD, PhD, professor of hepatobiliary surgery and d Interventional Ultrasound and Director of the Cancer Center at First Affiliated Hospital, Sun Yat-sen University, Guangzhou, China.
The combination of the two approaches was "safe and effective for patients with advanced hepatocellular carcinoma and demonstrated remarkable improvements in overall survival, progression-free survival, and overall response rate, as well as acceptable toxicity" , did he declare.
Patients receiving combination therapy achieved a median overall survival of 17.8 months, compared to 11.5 months in the lenvatinib arm (HR, 0.45; P P
The results of the study were presented here at the Gastrointestinal Cancers Symposium (GICS) 2022.
Discussing the abstract, Anthony B. El-Khoueiry, MD, of the University of Southern California, Norris Comprehensive Cancer Center, Los Angeles, said the results are "intrusive" and he congratulated the researchers for achieving this. study.
"This reinforces the feasibility of liver-targeted and systemic combination therapy," he said.
"However, this does not change the standard of care in the United States," he warned.
"The backbone of systemic therapy is not the standard of care, and the design of this study was suboptimal to answer the question of whether adding liver-directed therapy to the Advanced HCC improves outcomes," he added.
EL-Khoueiry pointed out that these new results from the LAUNCH trial contrast with two studies looking at liver-directed therapy plus systemic therapy. Both of these previous studies used sorafenib, one using Y-90 and the other conventional TACE.
Both of these studies were negative, he said. "But there were differences between these studies and LAUNCH."
Besides the fact that they used sorafenib and not levantinib, another difference was that LAUNCH's patient population was younger than in the other two studies. Additionally, most patients in the LAUCH trial had hepatitis B and received more TACE treatments than in previous studies. "It can be argued that perhaps the treatment selection was more optimal," commented El-Khoueiry.
He also noted that "The lenvatinib control arm underperformed, as the median overall survival of sorafenib in previous trials ranged from 13 to 15 months. We would have expected lenvatinib to perform at least as well or better." ." (Median overall survival was 11.5 months).
Better results with combination therapy
The LAUNCH study involved 338 treatment-naïve patients with advanced HCC from 12 hospitals in China who were randomized to receive either lenvatinib plus TACE (n=170) or lenvatinib alone (n=168).
TACE was administered on day 1 following treatment with lenvatinib, which was administered at 8 mg or 12 mg once daily, depending on the patient's weight.
The majority of patients were aged 60 or younger, with a median age of 54 to 56 years. The majority of patients were men (81.8% in the combination group vs 78.6% in the lenvatinib alone group), and the majority had hepatitis B (87.1% vs 85.7%).
At a median follow-up of 18.4 months for the lenvatinib-TACE group and 17.0 months for the lenvatinib group, results showed a significant improvement in overall survival of 17.8 months with the combination vs 11.5 months for monotherapy (HR, 0.45; P P
The overall response rate (ORR) was 54.1% versus 25.0% (P
Grade 3-4 adverse events occurring more frequently in the lenvatinib-TACE group than in the lenvatinib group included increased liver enzymes, with increased ATL in 17.6% versus 1.2%; increase in AST in 22.9% versus 1.8%; and hyperbilirubinemia in 9.4% versus 3.0%.
"Subgroup analysis shows that the combined group had better overall survival and progression-free survival in most subgroups analyzed," Kuang said. "Multivariate analysis also revealed that portal vein tumor thrombus and treatment assignment were independent risk factors for overall survival, and that age, portal vein tumor thrombus and treatment assignment were independent risk factors for progression-free survival."
Study limitations
In his discussion of the abstract, El-Khoueiry noted that the LAUNCH trial had several limitations, one being the heterogeneity of the patient population and potential imbalance. "There is little information regarding the burden and distribution of extrahepatic disease," he explained. "Another limitation is that the younger population – the majority of whom have hepatitis B – limits the broad applicability of the result and has a potential impact on low treatment dropout rates."
This study received no industry funding. Kuang did not disclose any relevant financial relationship. El-Khoueiry has reported relationships with ABL bio, Agenus, Astex, AstraZeneca/MedImmune, Bayer, Bristol-Myers Squibb, CytomX Therapeutics, Eisai, EMD Serono, Exelixis, Fulgent Genetics, Gilead Sciences, Merck, Pieris Pharmaceuticals, QED Therapeutics and Roche/Genentech.
Gastrointestinal Cancer Symposium (GICS) 2022: Summary 380. Presented January 21, 2022.
To learn more about Medscape Oncology, join us on Twitter and Facebook.