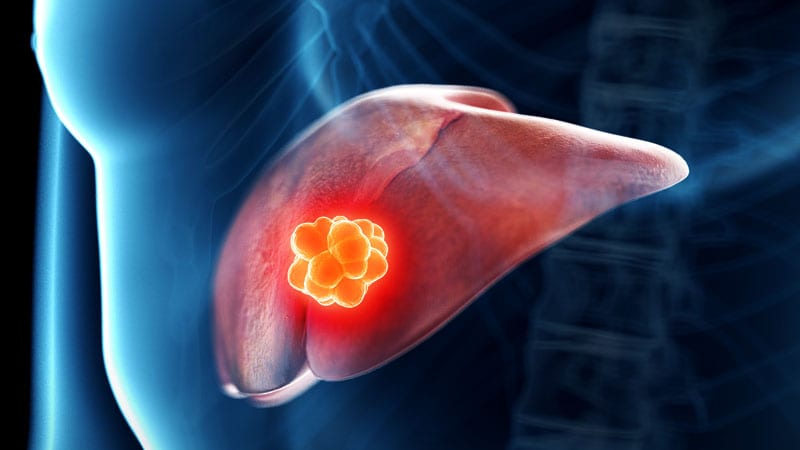 Dual immunotherapy promising a new option for liver cancer
SAN FRANCISCO ― New Dual Immunotherapy Regimen Significantly Improved Overall Survival Compared to Standard Treatment in Patients With Advanced Unresectable Disease hepatocellular carcinoma (HCC) in the large Phase 3 HIMALAYA trial.
The new regimen, dubbed STRIDE (Single T Regular Interval D), included a single priming dose of the investigational agent tremelimumab followed by regular doses of durvalumab (Imfinzi).
Patients on this regimen had a 22% lower risk of death than patients treated with sorafenib (Nexavar), which at the start of the trial was the only approved first-line standard of care for patients with advanced HCC.
At 3 years, almost 31% of patients treated with the combination were still alive, compared to 24.7% for durvalumab alone and 20.2% for sorafenib.
This new regimen "could represent new treatment options for patients with untreated hepatocellular carcinoma," said lead author Ghassan Abou-Alfa, MD, MBA, attending physician at Memorial Sloan Kettering Comprehensive Cancer Center in New York. "Pending FDA approval, this new dual immunotherapy regimen could be readily available to all patients and would not require additional pre-treatment safety evaluations."
He presented the new findings here at the Gastrointestinal Cancer Symposium (GICS) 2022.
In discussing the abstract, Anthony B. El-Khoueiry, MD, of the University of Southern California, Norris Comprehensive Cancer Center, Los Angeles, agreed that the STRIDE regimen, with the combination of a priming dose of tremelimumab and durvalumab at regular intervals, is a new first-line treatment option for patients with advanced HCC.
"But there are some limitations to the study and topics that will require further investigation," he added.
Increase in liver cancer
Liver cancer is one of the few cancers for which mortality rates are increasing. In the USA. The global death rate from liver cancer has doubled since 1980, Abou-Alfa told the audience. The most recent 5-year survival rates are 32.6% for localized disease, 10.8% for regional disease, and 2.4% for distant disease.
Until recently, first-line therapy for untreated HCC was limited to the multi-kinase inhibitors sorafenib and lenvatinib (Lenvima), which have been associated with a median overall survival of around 1 year, but also with toxicities that impact quality of life, he commented.
"More recently, the anti-PD-L1 agent atezolizumab more bevacizumab showed significant survival benefit over sorafenib and became standard of care after approval in 2020," he said.
Tremelimumab is an investigational immunotherapy that targets the CTLA-4 receptor, and in 2020 it received orphan drug status for the treatment of HCC from the United States Food and Drug Administration (FDA). The authors hypothesized that tremelimumab would stimulate the response to durvalumab, a PDL-1 inhibitor, as observed in the Phase 2 trial of Study 22, which tested the STRIDE diet.
Now, in the Phase 3 HIMALAYA trial, the STRIDE regimen has been compared to durvalumab used alone and sorafenib used alone.
The trial randomized 1171 patients to receive either the STRIDE regimen (75 mg single dose of tremelimumab plus 1500 mg of durvalumab every 4 weeks), durvalumab alone (1500 mg every 4 weeks), or sorafenib alone (400 mg twice daily).
Initially, there was also an arm containing lower dose tremelimumab, but enrollment in this arm was halted after a planned analysis of Study 22 showed no significant difference in efficacy between this arm and durvalumab alone.
As of the data cut-off date, the primary objective of the study has been achieved. Overall survival was significantly improved for STRIDE compared to sorafenib (relative risk; P = .0035). The median overall survival was 16.4 months for the STRIDE group vs 13.8 months for sorafenib and 16.6 months for durvalumab alone.
Median progression-free survival was 3.8 months, 3.7 months, and 41.1 months, respectively.
The overall response rate for the STRIDE arm was 20.1% versus 17% for durvalumab and 5.1% for sorafenib, and the median duration of response was 22.3 months, 16.8 months, and 18. 4 months, respectively.
Grade 3 or 4 treatment-related adverse events occurred in 25.8% of patients on the combination, compared to 12.9% for durvalumab and 36.9% for sorafenib.
Grade 5 events occurred in 2.3% of patients in the STRIDE group, compared with 0% in those receiving durvalumab alone and 0.8% in the sorafenib group. Discontinuation of treatment due to events occurred in 8.2%, 4.1% and 11.0% of patients, respectively.
New option for first-line treatment
In his discussion of the summary, El-Khoueiry raised a few issues with the HIMALAYA trial that he felt needed further investigation.
Due to the study design, no conclusions can be drawn regarding the STRIDE regimen versus durvalumab as a single agent – ​​the study was not powered for this, he said.
In addition, the trial excluded patients with portal vein thrombosis (PVT), he noted, and he felt that the analysis of the subgroups of Hepatitis C patients requires further study.
"Another point is that, compared to other studies, bleeding events were less frequent in the HIMALAYA trial, but it excluded patients with primary DVT who have the highest risk of bleeding," a- he pointed out.
STRIDE has a different toxicity profile than seen with combinations containing VEGF (eg, containing bevacizumab) and has a lower risk of bleeding and a manageable rate of immune-mediated adverse events requiring steroids. "But looking at diets without VEGF, is there an advantage to this, since most subsequent therapies target VEGF?" he asked.
Another question is whether there is a role for single agent PD-1/PD-L1 in frontline HCC. "This trial found durvalumab was not inferior to sorafenib. It could be a first-line treatment option for some patients – perhaps those who are poor candidates for combination therapy or who have contraindications. to VEGF," El-Khoueiry said.
Nonetheless, STRIDE represents an emerging treatment option for this population, particularly for patients who have contraindications to bevacizumab and a high risk of bleeding, he concluded.
"So for HCC, it's amazing that we now have multiple first-line treatment options," he said. "The choice of treatment should be guided by the toxicity profile and patient-specific contraindications."
Looking ahead, he emphasized that biomarker development is key to improving a personalized approach focused on tumor and host biology.
"Sorafenib is no longer an appropriate control arm for first-line trials," he said. "The timing of the transition from liver-directed therapy to systemic therapy is critical given the multiple options available."
HCC in the setting of compromised liver function continues to be an unmet need. "And finally, in second line and beyond, therapy after first line immunotherapy combinations is largely empirical," he said. "Research is needed to establish the effectiveness of available and future treatment options after immunotherapy and the optimal sequence."
This study received funding from AstraZeneca, maker of durvalumab. Abou-Alfa reported relationships with Adicet Bio, Agios, Alnylam, Arcus Ventures, AstraZeneca, Autem Medica, Bayer, BeiGene, Berry Genomics, Bristol-Myers Squibb, Celgene, Center for Emerging & Neglected Diseases (CEND), CytomX Therapeutics, Eisai, Exelixis, Flatiron Health, Genoscience Pharma, Helio Health, Incyte, Ipsen, Legend Biotech, Lilly, Merck Serono, Nerviano Medical Sciences, QED Therapeutics, Polaris, Puma Biotechnology, Rafael Pharmaceuticals, RedHill Biopharma, Roche/Genentech, Servier, Silenseed , Sillajen, SOBI, Surface Oncology, TheraBionic, twoXAR, Vector Health, Yiviva and Yiviva. El-Khoueiry has reported relationships with ABL bio, Agenus, AstraZeneca/MedImmune, Bayer, Bristol-Myers Squibb, CytomX Therapeutics, EISAI, EMD Serono, Exelixis, Fulgent Genetics, Gilead Sciences, Merck, Pieris Pharmaceuticals, QED Therapeutics, Roche/ Genentech. mmune.
Gastrointestinal Cancers Symposium (GICS) 2022: Abstract 379. Presented January 21, 2022
To learn more about Medscape Oncology, join us on Twitter and Facebook.