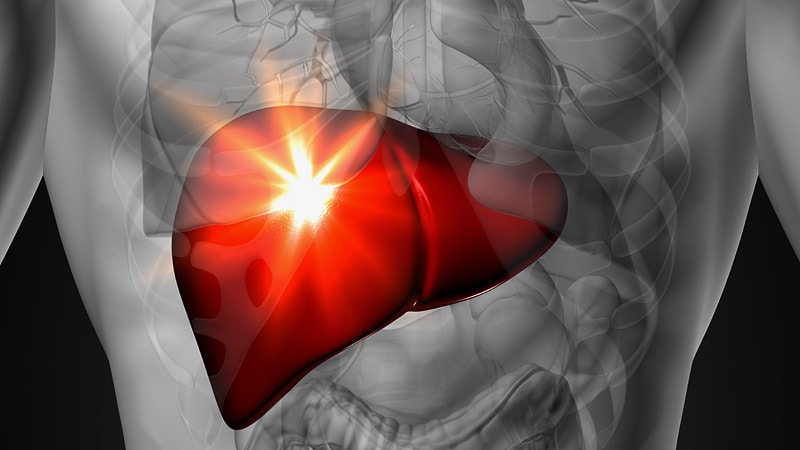 High residual risk of liver cancer in cirrhosis cured by HCV
A new study confirms the very high risk of hepatocellular carcinoma (CHC) faced by patients cirrhosis who were cured of Hepatitis Ca finding that the researchers hope will encourage clinicians to communicate risk information to patients and encourage regular screening for HCC.
On average, the predicted probability of HCC in patients with cirrhosis was 410 times greater than the equivalent probability in the general population, the study team found.
"As the prospect of HCV elimination approaches, a major challenge for the clinical community is the care of those who are cured of HCV but have residual risk of HCC," writes Hamish Innes, PhD, with Public Health Scotland, Glasgow, UK, and colleagues.
"The key is to ensure that patients with recovered cirrhosis understand the risk of HCC and receive appropriate monitoring," they add.
"Most patients with cirrhosis do not meet HCC screening guidelines," said Nina Beri, MD, a medical oncologist at NYU Perlmutter Cancer Center in New York, who was not involved in the study. Medscape Medical News.
The "important" finding from this study "should be passed on to patients, as it may help improve screening adherence rates," Beri said.
The study was published online June 24 in the American Journal of Gastroenterology.
Results can help promote uptake of screening
Innes and colleagues compared the predicted probability of HCC in 1803 Scottish adults (mean age, 50 years; 74% male) with cirrhosis and cured hepatitis C to background risk in the general population of Scotland.
The predicted 3-year average probability of HCC at the time of sustained viral response (SVR), determined using the aMAP prognostic model, was 3.64% (range, 0.012% – 36.12%).
This contrasts with a 3-year probability of HCC in the general population ranging from
All patients with cirrhosis – even those at low risk – had a higher likelihood of HCC than the general population, but there was considerable heterogeneity between patients.
For example, the predicted 3-year average probability was 18 times higher in the top quintile (9.8%) than in the bottom quintile (0.5%) of risk, the researchers found.
They could not identify a subgroup of patients with a similar HCC risk profile to the general population, as was their hope in the study.
Innes and his colleagues have developed a online tool which allows clinicians to square a patient's 3-year probability of HCC against the equivalent probability in the general population.
In the future, they say the scope of the tool could be extended by incorporating general population data from countries other than Scotland.
"Our hope is that this tool will serve as a springboard for patient-clinician discussions about HCC risk and may alleviate the low rate of screening," Innes and colleagues write.
Curing HCV does not eliminate the risks
Commenting on the study of Medscape Medical NewsNancy Reau, MD, section chief of hepatology at Rush University Medical Center in Chicago, Illinois, said that curing HCV is "very important and greatly reduces the risk of complications, but it doesn't bring you back to the normal population. ".
Reau's advice to patients with cirrhosis: "Get tested twice a year."
Beri said that in addition to communicating this risk to patients, "it is also important to disseminate this information to the community and to primary care practices, especially since some patients may not be currently following a specialist clinic in liver disease".
Also weighing in on the study, Amit Singal, MD, chief of hepatology at UT Southwestern Medical Center in Dallas, Texas, said this. A study points out that underlying cirrhosis is "the most important risk factor for the development of HCC".
Unlike other cancers, such as breast and colorectal cancerin which high-risk populations can be identified by readily available information, such as age and gender, implementation of HCC screening programs requires identification of patients with cirrhosis, Singal noted.
"The underutilization of HCC screening in clinical practice is often linked to providers' difficulties at this stage of the process and contributes to the high proportion of HCC detected at later stages," he said. Medscape Medical News.
"The availability of accurate non-invasive markers of fibrosis will hopefully contribute to better identification of patients with cirrhosis in the future," Singal said, "although we as hepatologists need to work in working closely with our primary care colleagues to ensure that these tools are used regularly in at-risk patients, such as those who are not alcoholics foie gras disease, alcohol-associated liver disease, or history of cured hepatitis C infection (post-SVR). »
The study was supported by the Medical Research Foundation and Public Health Scotland. Innes, Beri, Reau and Singal report no relevant financial relationship.
Am J Gastroenterol. Published online June 24, 2022. Summary
For more information, follow Medscape on Facebook, Twitter, instagram, Youtubeand LinkedIn