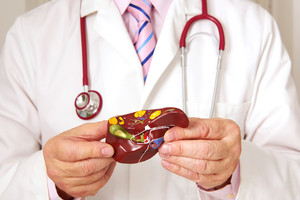 Patients with hepatitis B with metabolic risks have a higher risk of liver cancer
[ad_1]
If hepatitis B patients have metabolic risk factors such as obesity and hypertension, they have a higher risk of developing liver cancer and death, a study has shown.
The research team, led by Professor Lee June-young of the Department of Biostatistics at Korea University College of Medicine, published the study titled "Association of Metabolic Risk Factors With Risks of Cancer and All-Cause Mortality in Patients With Chronic Hepatitis B "in the June issue of Hepatology.
More than 200 million people suffer from chronic hepatitis B, and the disease is particularly common in Asia. It can lead to cirrhosis and liver cancer, causing social and economic burdens.
For patients with hepatitis B, oral antiviral agents are commonly used. Yet those who receive antiviral drugs have a high risk of developing liver cancer. Thus, the development of a treatment strategy to assess and manage risk factors for liver cancer is necessary.
The research team used data from around 300,000 patients with chronic hepatitis B who underwent health exams from 2007 to 2012 to assess metabolic risk factors such as obesity, high blood pressure, diabetes and high cholesterol. In addition, the research team analyzed the risks of developing hepatocellular carcinoma (HCC), non-HCC cancer, and overall mortality.
The research team assessed the risk of HCC and non-HCC cancer using the Fine-Gray sub-distribution risk model and the risk of death using the Cox proportional hazard regression model.
The results showed that the more metabolic risk factors there were, the higher the risk of HCC, non-HCC cancer, and mortality.
This trend has also been seen in patients who have been taking oral antiviral drugs for five years or more.
The study was a large-scale study of all patients with chronic hepatitis B in Korea.
He said it was important to assess and preventively manage metabolic risk factors as well as antiviral therapy to reduce patients' cancer risk and increase their survival rate.
"In conducting this study, I felt it was necessary to ask a reasonable but creative research question to successfully conduct a big data-based health care cohort study," said Lee, the lead researcher. "I hope the study results could lead to the development of clinical care so that many hepatitis B patients can have hope."
The study was an international joint study, in which Fabien Zoulim, professor at the Lyon Cancer Research Center at the University of Lyon, France, participated.
[ad_2]