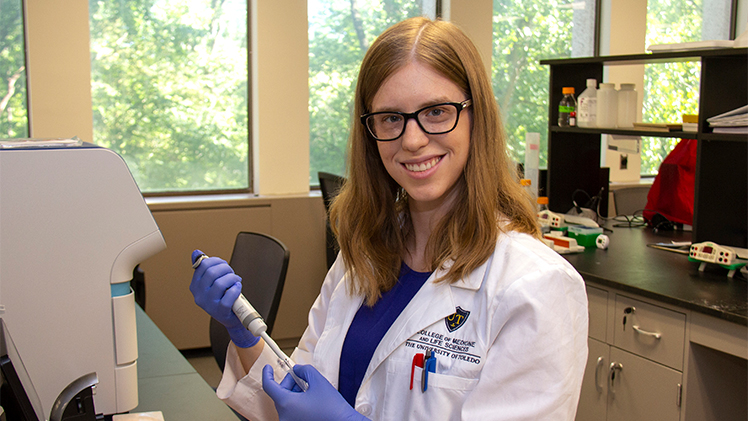 PhD student studying liver cancer wins prestigious scholarship
---
Liver cancer is a sneaky disease. In the early stages, it rarely causes symptoms. By the time the cancer is discovered, it has often progressed too far to be treated effectively.
To beat this sneaky killer, Rachel Golonka searches in a seemingly unlikely place – our gut.
Golonka, a doctoral student in molecular medicine at the University of Toledo's College of Medicine and Life Sciences, studies how bacteria living in our digestive systems produce metabolites that may help liver cancer proliferate by dampening our responses immune.
Specifically, she focused on short-chain fatty acids and secondary bile acids, both of which are produced in the colon.
"The idea is that these two metabolites tell the immune system to shut down or shut up," she said. "It's about reprogramming the immune cells that are recruited into the liver cancer environment. There are fewer cancer killer cells and more immunosuppressive regulatory cells, allowing liver cancer to progress.
To combat this, Golonka targets the bacteria responsible for producing these metabolites using both repurposed drugs and new pharmacological agents. By inhibiting the production of the problematic metabolites, the expected hope is to observe more cancer-fighting immune cells and less liver cancer itself.
She recently received a Ruth L. Kirschstein National Research Service Award (F31) from the National Cancer Institute. The highly competitive scholarship supports promising doctoral students and provides them with a strong individualized training experience.
Golonka works under the mentorship of Dr. Matam Vijay-Kumar, a professor in the Department of Physiology and Pharmacology. Vijay-Kumar said the link between bacteria in our colon and liver cancer is newly popular but still understudied.
"Not only does she investigate why metabolites promote liver cancer, but she also identifies potential treatments that could be applicable in clinics to make life easier for people with liver cancer," he said. "The fact that she received this prestigious award gives a glimpse of her enthusiasm for research and her ambition to advance science."
For Golonka, who scored among the top 1% of all F31 applicants in the National Cancer Institute's study section and hopes to remain in academic biomedical research after graduation, the award represents a major personal achievement.
"When it comes to furthering the academic career path, if you can get a predoctoral fellowship during your graduate years, that's extremely monumental and a confidence booster," she said. declared. "I feel very sure about my future."
Golonka is one of two students from the College of Medicine and Life Sciences to be awarded the prestigious scholarship in recent months.
Last year, Joshua Breidenbach, Ph.D. student in the Department of Medical Microbiology and Immunology studying how people with asthma are affected by cyanotoxins dispersed through the air during harmful algal blooms, received an F31 scholarship from the National Heart, Lung and Blood Institute.