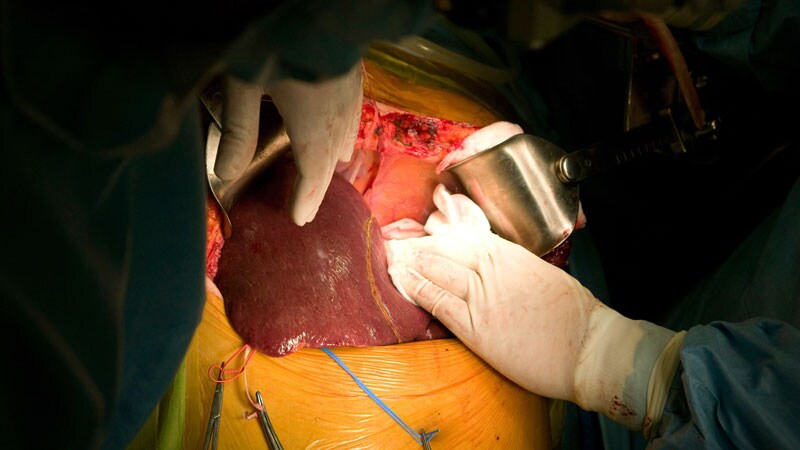 Underused radiation as a "bridge" for transplantation in liver cancer
[ad_1]
CHICAGO – Only 4% of liver cancer patients waiting for transplants undergo external beam radiation therapy (EBRT), even though it is a safe and effective transition therapy. It's vastly underused compared to other liver-focused therapies, according to the researcher who presented the new findings.
"This highlights a real-world gap in the therapeutic arsenal for hepatocellular carcinoma [HCC]commented Nima Nabavizadeh, MD, associate professor of radiation oncology and residency program director at Oregon Health and Science University, Portland, Oregon.
He was speaking here at the 2021 annual meeting of the American Society for Radiation Oncology (ASTRO).
These new data suggest that there is a reluctance among transplant programs to use radiation therapy as a bridging therapy before liver transplantation, commented Hyun Kim, MD, chief, GI Service, Department of Radiation Oncology, Washington. University School of Medicine and Siteman Cancer Center, St. Louis, Missouri.
"This is despite 10-year data from Princess Margaret and Toronto General Hospital showing external beam radiation therapy is a safe and feasible transition therapy," he said. "More modern data from the same institutions indicate that patients filled with doses of stereotaxic body radiation ablative radiation delivered with high compliance have similar survival to patients filled with radiofrequency ablation."
Kim also noted that even after the transplant, rates of intrahepatic recurrence can reach 10%. About 60% of patients have recurrence of any type within 3 years.
"Local non-ablative therapies leave viable disease, which may allow metastatic progression while the patient waits for the transplant," he said. Medscape Medical News. This new analysis highlights the need for well-designed clinical trials with modern endpoints to assess which bridging therapy is most beneficial for the patient, he added.
In this "current era of radiomics, deep learning and liquid biopsies, we have unprecedented tools and responsibility to ensure that our practice continues to improve in a data-centric manner and does not sit on hold." in the paradigm of a previous era, "Kim said. .
One of the main causes of death in the world
HCC is one of the leading causes of cancer death worldwide and its incidence is increasing in the United States. Transplantation is often the best option for the long-term survival of patients with localized HCC and advanced cirrhosis, Nabavizadeh said at the meeting.
Because patients often have to wait months to over a year for a transplant, many patients receive liver-directed transition therapy to prevent tumor growth or spread and to maintain transplant eligibility. he explained.
These bridging therapies include thermal ablation procedures, transarterial chemoembolization (TACE) and Y-90 radioembolization, as well as EBRT.
To study how these therapies were used, Nabavizadeh and his colleagues conducted a retrospective study in which they analyzed data from the United Network for Organ Sharing, a non-profit organization that operates the only national liver transplant waiting list in the United States. United States.
They identified patients on the transplant list who had requested exceptions for the end-stage liver disease (MELD) model in order to be prioritized on the waiting list.
A total of 18,447 HCC patients submitted MELD exception requests during the study period (October 2013 to June 2020). More than half of these patients (n = 11,171; 60.6%) received a transplant. After submitting the exception request, the median time to receive a transplant was 7 months.
Of the group as a whole, 15,759 (85.4%) patients received liver-directed therapy pending transplant, but only 658 patients (3.6% of the overall cohort) received EBRT, alone or in combination with another therapy.
"The majority of patients have received chemoembolization, and ERBT is a very small percentage," Nabavizadeh said.
During the study period, the use of transarterial chemoembolization decreased. It has largely been replaced by thermal ablation and Y-90 radioembolization. The analysis also showed that the use of EBRT had increased in recent years, but its use was still much lower than that of other therapies.
TACE was the most widely used therapy. It was used for 39.6% of patients, followed by thermal ablation (12.8%) and radioembolization (8.7%). Almost a quarter of patients (22.2%) received a combination of non-EBRT therapies.
"We found that the use of EBRT differed significantly from region to region," commented Nabavizadeh. The highest use (8.7%) was in the Great Lakes states. In the Southeast, it was only used for 1.7% of patients.
No statistical difference was observed in clinicopathologic factors between patients who received EBRT and those who did not.
The transplant is curative
The transplant is curative for both the cancer and the underlying cirrhosis, but patients may experience disease progression while waiting for the transplant, noted Jessica Karen Wong, MD, MEng, assistant professor, Department of Radiation Oncology. , Fox Chase Cancer Center, Philadelphia, Pa., Who has been approached for comment.
"Radiation therapy, especially stereotaxic body radiation therapy (SBRT), is a safe and effective transition therapy, but has only been used in a small minority of patients eligible for this national database," she said. declared. "Although the use of radiation as a bridging therapy increases over time, it continues to be underutilized. The increase in radiation use offers an opportunity to improve care for patients with hepatocellular carcinoma waiting for a liver transplant. "
Nabavizadeh and Wong did not disclose any relevant financial relationship. Kim has received research funding and speaker honoraria from Varian and ViewRay.
American Society for Radiation Oncology (ASTRO) Annual Meeting 2021: Presented October 24, 2021. Summary 2078.
For more news, follow Medscape on Facebook, Twitter, Instagram and YouTube.

[ad_2]